The Wars
The Napoleonic Wars       

The Boer War

World War I

World War II 
The Napoleonic Wars [Links  to Merriott:   Luke Lawrence  and Catherine Pattemore – see below]
In 1789 the peace of Europe was shattered by the French Revolution.  The ordinary people of France had suffered too long the excesses of monarchy and aristocracy, an outworn feudal system and heavy taxation.  Ideas of an enlightened popular government and the rights of man had been filtering in to France from England, and also from the newly formed United States of America.  Eventually the situation exploded, and within four years construction and deconstruction had turned France upside down, with a free republic proclaimed.
The excesses of the revolutionaries caused alarm through the rest of Europe, and in 1792 Austrian and Prussian troops invaded France. In 1793 French patriots overran the Austrian Netherlands and threatened Holland, and Britain was drawn into the war.   By 1797 Britain faced her alone, with Spain & Holland on the side of France.  France had produced the all-conquering military genius of Napoleon Bonaparte.
By 1803 the war had grown from a struggle against republican France to a battle against Napoleon's attempted domination of Europe.   His plans to invade Britain were foiled by the Navy in the victory off Trafalgar by Nelson.
By 1807 Napoleon, now Emperor of France, had reached an enormous height of power.  However, his decline began soon after, with defeats in Portugal and Spain in the Peninsular War of 1808 – 1814, a retreat from Moscow in 1812, a defeat at Leipzig in 1813, and finally in 1815 his defeat at Waterloo led by the Duke of Wellington.
Link to Merriott – Luke & Mary LAWRENCE
In those days, wives and families of soldiers could travel with their fighting men, performing domestic chores for them – such as cooking, cleaning etc.   The Merriott censuses show that Ann LAWRENCE was born in Antwerp, Belgium (at that time Holland) about 1814.  Her father, Luke LAWRENCE was a Corporal of the 81st Regiment, which was stationed in what is now Belgium in 1814 – 15.  The Regiment was then posted to Ireland for the next five years or so.   Just as the Regiment was about to be sent overseas again, to America, Luke Lawrence was medically discharged (a bowel problem)  and the family returned to Merriott.  [Information courtesy
of Peter Scott].
Luke LAWRENCE was baptised in 1793 in Merriott and  married Mary OSBORNE in 1810.  The couple's first child, also Luke, was baptised in 1812 in Merriott.  Another child, Harriet, was baptised in 1823 in Merriott.   Luke, senior, died later in 1823, at the young age of 30.   Mary, his wife, stayed in Merriott, and died in 1841.
The following is known of the three children:
Luke LAWRENCE married Sarah OSBORNE in 1830 and emigrated to Australia in 1858, living in the Newcastle area. [See: To Australia].
Their son George LAWRENCE, baptised 1834, was a Royal Marine.  He married Emma LAWRENCE in 1856; he emigrated to Washington Territory in the
USA around the same time (1858) as his parents and some other siblings emigrated to Australia.   His story is on the George Lawrence to USA page.
Their daughter Susan LAWRENCE, born 1838, married Samuel OSBORNE on Guernsey in 1856, baptised son Samuel in Merriott in 1857, and emigrated to New South Wales in 1858.  [See: To New South Wales]


Ann LAWRENCE married William OSBORNE in 1834 – the couple remained in Merriott, but of their 14 children, William (born 1834) married Hannah SWEET, and emigrated to New South Wales in 1857.  [See: To New South Wales] Their daughter Harriet (born 1835) married a marine, Charles Abbott. Their son Benjamin (born 1839) became a soldier, who served in the Indian Army and later went to Canada.   Benjamin married Ellen WILLS in 1867; a son Benjamin William was born in 1868, but  in 1872 Ellen is noted as a widow for the baptism of her daughter Rosa.


Harriet LAWRENCE – no further information.
Link to Merriott:  Catherine Pattemore
Catherine Pattemore, married to James Sweet on 5 September 1825, was noted in the 1851 census as born in Brussels, Belgium.   Her parentage is not known, but her approximate year of birth was 1790.    Does anyone have any more information on Catherine?  I am presuming her parents were in Belgium in connection to the Napoleonic Wars rather than on a holiday!
Awaiting Input – any information gratefully received!
Tom Webb was a Merriott lad who fought in the war.

Memorial reads:  To the Glory of God and in grateful memory of the men of Merriott who laid down their lives in the Great War 1914-18
Photo courtesy of Mary Gardiner 2003
Henry G. Butcher
Archibald Dobbie
Herbert W Dobbie
Albert Elswood
Thomas Elswood
Arthur J French
Harold HS Greenham
Wm. Kenneth Haile
Arthur Haines
Fred Hooper
Fred G. Lacey
William Lacey
Walter Larcombe
Albert E. Lawrence
Fred Lawrence
Harry Lawrence
Thomas Lawrence
Jack Lethebe
Reginald Martin
Percy S Mitchell
Edgar Osborne
Henry Osborne
William Osborne
Henry Parker
Percy Pattemore
William Pattemore
George Rendall
Archibald Sweet
Henry Sweet
Arthur Stuckey
Richard Trask
Roger W Watson
Henry Wetherall
Photo courtesy of Mary Gardiner 2003
Sue Smith has done some research into the names on the Memorial.  Thanks Sue!
For details, go to this page: Research on the Names on the World War 1 Memorial.
Some of David Gibbs' anecdotes are about the Evacuees during the War, and the influx of American Soldiers.   Have a look at:  At War With the Evacuees and
Red Dominoes and Green Tins of Dubbin.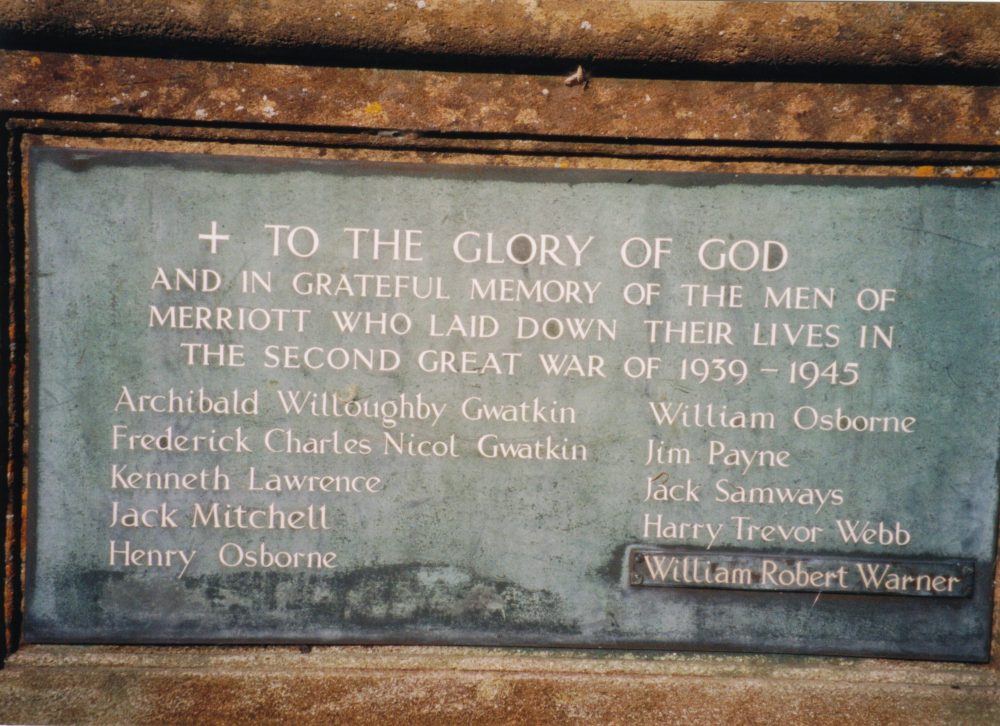 TO THE GLORY OF GOD
AND IN GRATEFUL MEMORY OF THE MEN OF
MERRIOTT WHO LAID DOWN THEIR LIVES IN
THE SECOND GREAT WAR OF 1939 – 1945

Archibald Willoughby Gwatkin **
Frederick Charles Nicol Gwatkin **
Kenneth Lawrence
Jack Mitchell
Henry Osborne
William Osborne*
Jim Payne
Jack Samways
Harry Trevor Webb
William Robert Warner

Brian Tasker has contributed the following information about the World War 2 Memorial:
* William Osborne was otherwise known as Billy Utchem.   A photo of 
William, along with his friend Arthur Gibbs, can be found here.

** Regarding Archibald Willoughby Gwatkin and 
Frederick Charles Nicol Gwatkin:
These were the two sons of General Sir – – -, and Lady Gwatkin who lived at Merriott House during the War, after the Weys, and before Lt. Colonel Payne-Galway.
The Gwatkins were charming people, very Top-Drawer, but very approachable. Lady Gwatkin used to rather remind me of the Queen Mother ! I had not realised that she had lost two sons in the War. I would have thought that through the church I would have been aware of this, perhaps I had just forgotten, so please may we re-remember them.
The Lt Colonel Payne-Galway who followed them appears in David Gibbs' Scouts photo.
Regards – Brian
Other interesting snippets:
I have done some research on the above names, on the Commonwealth War Graves Commission Website – go to
Research on the Names on the World War 2 Memorial.
David Gibbs has sent me some reminiscences of the War Memorial – go to War Memorial Memories.