Back to Wills Family Page
Wills Family in 19th Century Merriott
The 19th Century 
MARRIAGES pre 1837 (less detail)
MALES

FEMALES

20 July 1803  Joseph Wills m Ann Geep
30 May 1808  William Wills m Mary Geep
25 December 1809  Samuel Wills m Charity Geep
5 February 1810  John Wills m Joan Mitchell
2 March 1813 John Wills m Mary Warry
29 November 1813 Edward Wills m Joan Raindle
10 April 1820 William Wills Ann Geep
21 September 1823 John Wills m Mary Lawrence
19 April 1824 Samuel Wills m Susanna Sweet
15 January 1827 Anthony Wills m Sarah Doutch
18 October 1836 Robert Wills m Mary Stone
2 April 1837 Edward Wills m Amelia Osborne
2 April 1837 Joseph Wills m Hannah Osborne

9 June 1802 Mary Wills m Thomas Dinmead
16 October 1806  Mary Wills m John Mitchell
26 December 1808  Joan Wills m Richard Raindle
20 February 1809  Margaret Wills m Thomas Mitchell
5 December 1814 Ann Wills m William Mitchell
11 September 1815 Sarah Wills m  Samuel Osborne
24 December 1816 Elizabeth Wills m George Geep
31 January 1820 Hannah Wills m James Sweet
25 May 1823 Elizabeth Wills m John Paul
6 July 1823 Patience Wills m Joseph Daw
16 May 1825 Susanna Wills m Samuel Mitchell
26 July 1825 Susanna Wills m John Lawrence
17 December 1826 Catharine Wills m Josias French
16 May 1836 Elizabeth Wills m Thomas Lawrence
26 June 1836 Mary Wills m John Lawrence                              

MARRIAGES post 1837 (extra detail)
Date

Year

Forename

Surname

Spouse

Age

Condition

Signed?

Abode

Occupation

Father

Father's Occ

Witness

23-Feb

1841

Rachel

Brown

George Wills

21

Spinster

No

Lower St

Factory Reeler

James Brown, late

Labourer

Ann Wills

23-Feb

1841

George

Wills

Rachel Brown

25

Bachelor

No

Lower St

Field Labourer

John Wills

Labourer

Samuel Gibb

2-Aug

1841

William

Wills

Mary Ann Willy

23

Bachelor

No

Church St

Labourer

John Wills

Labourer

Thomas Bailey

2-Aug

1841

Mary Ann

Willy

William Wills

22

Spinster

No

Higher St

Glove Sewer

James Willy

Labourer

Hannah Bailey

29-Nov

1841

Edward

Preston

Rachel Wills

23

Bachelor

Yes

Sojourner, Merriott

Private Soldier in 56th Regiment

John Preston

Weaver

George Wills

29-Nov

1841

Rachel

Wills

Edward Preston

23

Spinster

Yes

Sherrimore Hill

Weaver

Samuel Wills

Labourer

Sarah Pattemore

11-Dec

1842

Ann

Lawrence

Enos Wills

25

Spinster

No

Monkhood's Lane

Labourer

Robert Lawrence

Labourer

Leah Lawrence

11-Dec

1842

Enos

Wills

Ann Lawrence

23

Bachelor

No

Sherrimore Hill

Weaver

William Wills

Weaver

William Mitchell

22-Apr

1843

Sarah

Pattemore

George Wills

25

Spinster

Yes

Sandy Hole

Glove Sewer

John Pattemore

Farm Gardener

Mary Pattemore

22-Apr

1843

George

Wills

Sarah Pattemore

26

Bachelor

Yes

Sherrimore Hill

Weaver

Samuel Wills

Weaver

William Mitchell

13-Apr

1845

Grace

Rendall

James Wills

24

Spinster

No

Lower Street

Weaver

George Rendall

Weaver

William Young

13-Apr

1845

James

Wills

Grace Rendall

23

Bachelor

No

Sherrimore Hill

Weaver

Samuel Wills

Weaver

Job Wills

10-May

1846

Ann

Wills

Joseph Sweet

23

Spinster

No

Higher Street

Servant

not given

not given

William Mitchell

10-May

1846

Joseph

Sweet

Ann Wills

23

Bachelor

Yes

England's Row

Nursery Lab.

John Sweet

Labourer

James Sweet

26-May

1846

Susan

Lawrence

Job Wills

20

Spinster

No

Sherrimore Hill

Weaver

Charles Lawrence

Road Man

Thomas Mitchell

26-May

1846

Job

Wills

Susan Lawrence

23

Bachelor

Yes

Sherrimore Hill

Weaver

William Wills

Weaver

Ann Wills

6-Aug

1847

Thomas

Mitchell

Anne Wills

22

Bachelor

Yes

Lower St

Baker

Samuel Mitchell

Gardener

John Cossins

6-Aug

1847

Anne

Wills

Thomas Mitchell

22

Spinster

Yes

Church St

Laundress

William Wills

Carter

Rachel Preston

20-Nov

1847

Ann

Wills

Robert Gibb

24

Spinster

No

Lower St

Dress Maker

John Wills

Labourer

Sarah Paul

20-Nov

1847

Robert

Gibb

Ann Wills

28

Bachelor

Yes

Lower St

Labourer

William Gibb

Labourer

Samuel Gibb

25-Dec

1847

Thomasine

Lawrence

William Wills

20

Spinster

Yes

Sherrimoor Hill

Glove sewer

Enos Lawrence

Labourer

Rachel Preston

25-Dec

1847

William

Wills

Thomasine Lawrence

22

Bachelor

Yes

Town's End

Weaver

Samuel Wills

Weaver

Jesse Wills

23-Oct

1849

Emma

Farr

William Wills

22

Spinster

No

Church Rd

Field Gardener

Robert Farr

Butcher

Robert England

23-Oct

1849

William

Wills

Emma Farr

22

Bachelor

Yes

Green Nap

Field Gardener

Samuel Wills

Carpenter

Joseph Eason

22-Dec

1849

Mary

Lawrence

Robert Wills

25

Spinster

No

Sherrimoor Hill

Factory Worker

Enos Lawrence

Labourer

Robert Gibb

22-Dec

1849

Robert

Wills

Mary Lawrence

26

Bachelor

No

Sherrimoor Hill

Labourer

John Wills

Labourer

George Lawrence

12-Oct

1850

Elizabeth

Chant

Jesse Wills

23

Spinster

No

Lower Street

Dress Maker

Joseph Chant

Carter

John England

12-Oct

1850

Jesse

Wills

Elizabeth Chant

23

Bachelor

Yes

Sherrimore Hill

Weaver

William Wills

Weaver

Job Wills

20-Oct

1850

Sarah

Paul

John Wills

24

Spinster

No

Broadway

Glove Sewer

John Paul

Mason

Mary Paul

20-Oct

1850

John

Wills

Sarah Paul

30

Bachelor

Yes

Church St

Nursery Gardener

William Wills

Labourer

Robert Gibb

25-Dec

1851

George

Sweet

Sarah Wills

23

Bachelor

No

Towns End

Weaver

John Sweet

Carter

Edward Pattemore

25-Dec

1851

Sarah

Wills

George Sweet

19

Spinster

No

Church St

Glove Sewer

Thomas Wills

Weaver

Alfred Wills

25-Dec

1851

Elizabeth

Wills

Samuel Grinter

20

Spinster

No

Broadway

Spinner

John Wills

Labourer

Eli Baker

25-Dec

1851

Samuel

Grinter

Elizabeth Wills

20

Bachelor

Yes

Broadway

Gardener

John Grinter

Gardener

Joseph Eason

21-Aug

1852

Thomas

Harp

Mary Wills

21

Bachelor

No

Lower St

Weaver

Thomas Harp

Weaver

Charles Wills

21-Aug

1852

Mary

Wills

Thomas Harp

21

Spinster

No

Lower St

Dressmaker

John Wills

Labourer

Richard Hellier

5-Sep

1853

Caroline

Rendall

Alfred Wills

20

Spinster

No

Sherrimore Hill

Factory Reeler

not given

not given

Jesse Wills

5-Sep

1853

Alfred

Wills

Caroline Rendall

21

Bachelor

Yes

Sherrimore Hill

Weaver

not given

not given

Job Wills

6-Sep

1853

Elizabeth

Lawrence

Charles Wills

23

Spinster

No

Broadway

Glove Sewer

William Lawrence

Labourer

Edward Pattemore

6-Sep

1853

Charles

Wills

Elizabeth Lawrence

24

Bachelor

No

Lower St

Labourer

John Wills

Labourer

John Lawrence

21-Feb

1854

Simeon

Pattemore

Hannah Wills

37

Widower

No

Higher St

Factory Fireman

not given

not given

Henry Pattemore

21-Feb

1854

Hannah

Wills

Simeon Pattemore

27

Spinster

No

Town's End

Factory Spooler

Samuel Wills

Weaver

George Sweet

25-Dec

1855

Robert

Shutler

Harriett Wills

28

Bachelor

No

Town's End

Labourer

John Shutler

Labourer

John Shutler

25-Dec

1855

Harriett

Wills

Robert Shutler

26

Spinster

No

Town's End

Samuel Wills

Labourer

Ann Mitchell

16-Feb

1858

Joan

Chant

James Wills

full

Spinster

Yes

Merriott




John Chant

Labourer

Harriot Wills

16-Feb

1858

James

Wills

Joan Chant

full

Bachelor

Yes

Merriott

Fireman, Brewery

Samuel Wills

Carpenter

H Parker

16-May

1858

Jane

Chant

George Wills

full

Spinster

No

Merriott

John Chant

Labourer

Ellen Pattemore

16-May

1858

George

Wills

Jane Chant

full

Widower

Yes

Merriott

Weaver

Samuel Wills

Labourer

Matthew Pattemore

24-Oct

1858

Benjamin

Hallet

Jane Wills

20

Bachelor

No

Merriott

Labourer

John Hallet

Labourer

Frederick Ashman

24-Oct

1858

Jane

Wills

Benjamin Hallet

21

Spinster

No

Merriott




John Wills

Labourer

Elizabeth Grinter

7-May

1859

Susan

Pattemore

Joseph Wills

full

Spinster

Yes

Merriott

John Pattemore

Gardener

Anna Pattemore

7-May

1859

Joseph

Wills

Susan Pattemore

full

Bachelor

Yes

Merriott

Carpenter

Anthony Wills

Carpenter

Anthony Wills

6-Jun

1859

Henry

Sweet

Emma Wills

22

Bachelor

No

Merriott

Labourer

Samuel Sweet

Gardener

Charles Wills

6-Jun

1859

Emma

Wills

Henry Sweet

21

Spinster

No

Merriott




not given

not given

Elizabeth Grinter

6-Mar

1860

Louisa

Lawrence

Edwin Wills

23

Spinster

No

Merriott

Jesse Lawrence

Labourer

Charlotte Day

6-Mar

1860

Edwin

Wills

Louisa Lawrence

22

Bachelor

Yes

Merriott

Carpenter

Samuel Wills

Carpenter

William Salisbury

16-Feb

1861

Alfred

Farr

Jane Wills

24

Bachelor

No

Merriott

Labourer

James Farr

illegible

Anthony Wills

16-Feb

1861

Jane

Wills

Alfred Farr

27

Spinster

No

Merriott




Anthony Wills

Carpenter

Jane Wills

2-Sep

1865

Hannah

Osborne

Thomas Wills

20

Spinster

No

Merriott

Glover

John Trask

Labourer

Ann Wills

2-Sep

1865

Thomas

Wills

Hannah Osborne

20

Bachelor

No

Merriott

Weaver

James Wills

Weaver

Thomas Lye

31-Mar

1867

John

Wills

Mary Ann Lawrence

21

Bachelor

No

Merriott

Labourer

Edward Wills

Labourer

William Pitts

31-Mar

1867

Mary Ann

Lawrence

John Wills

21

Spinster

No

Merriott




Henry Lawrence

Labourer

Ellen Eason

4-Nov

1867

Ellen

Wills

Benjamin Osborne

26

Spinster

No

Merriott

Mary Wills

Single woman

Ann Wills

4-Nov

1867

Benjamin

Osborne

Ellen Wills

27

Bachelor

Yes

Merriott

Soldier

William Osborne

Tranter

Frederic Ashman

21-Apr

1869

Adolphus

Sweet

Eliza Wills

21

Bachelor

Yes

Merriott

Shoemaker

Hannah Sweet

Single Woman

Joseph Rousell

21-Apr

1869

Eliza

Wills

Adolphus Sweet

21

Spinster

Yes

Merriott

not given

Amos Wills

Labourer

Ann Rousell

5-Sep

1870

George

Foot

Elizabeth Wills

24

Bachelor

No

Merriott

Weaver

John Foot

Labourer

Thomas Greenham

5-Sep

1870

Elizabeth

Wills

George Foot

21

Spinster

No

Merriott

Edward Wills

Labourer

Agnes Trask

18-Apr

1872

Robert

Wills

Mary Susan Cridge

21

Bachelor

Yes

Merriott

Gardener

William Wills

Gardener

Benjamin Pattemore

18-Apr

1872

Mary Susan

Cridge

Robert Wills

19

Spinster

Yes

Merriott




John Alfred Cridge

Butcher

Mary Susan Wills

10-Apr

1873

Charles (Link to Photo of Headstone)

Wills

Elizabeth Lawrence

29

Bachelor

Yes

Merriott

Gardener

Samuel Wills

Carpenter

Joseph Lawrence

10-Apr

1873

Elizabeth

Lawrence

Charles Wills

25

Spinster

Yes

Merriott

Richard Lawrence

Farmer

Catherine Lawrence

26-May

1873

John

Sweet

Christiana Wills

21

Bachelor

Yes

Merriott

Tranter

Edward Sweet

Tranter

Richard Cridge

26-May

1873

Christiana

Wills

John Sweet

20

Spinster

Yes

Merriott




William Wills

Gardener

Mary Susan Wills

5-Jul

1873

George

Wills

Elizabeth Lawrence

24

Bachelor

No

Merriott

Weaver

William Wills

Weaver

Joseph Rousell

5-Jul

1873

Elizabeth

Lawrence

George Wills

23

Spinster

No

Merriott

Simon Lawrence

Labourer

Mary Ann Wills

20-Jul

1873

Samuel

Greenham

Mary Wills

56

Widower

No

Merriott

Stoker, Tail Mill

Joseph Greenham

Shoemaker

Reuben Wills

20-Jul

1873

Mary

Wills

Samuel Greenham

full

Widow

No

Merriott




Amos Lawrence

Labourer

Mary Ann Wills

27-Jan

1874

Thomas

Lawrence

Caroline Wills

26

Bachelor

No

Merriott

Weaver

John Lawrence

Weaver

William Lawrence

27-Jan

1874

Caroline

Wills

Thomas Lawrence

28

Spinster

Yes

Merriott

George Wills

Gardener

Jemima Lawrence

8-Sep

1874

William

Mitchell

Caroline Wills

50

Widower

No

Merriott

Coal Hauler

Alexander Mitchell

Labourer

Joseph Rousell

8-Sep

1874

Caroline

Wills

William Mitchell

41

Widow

No

Merriott

Washer woman

Hannah Rendell

Single Woman

Ann Rousell

18-Feb

1875

Thomas

Marks

Harriett Wills

38

Bachelor

Yes

Merriott

Gardener

Joseph Marks

Farm Gardener

Charles Wills

18-Feb

1875

Harriett

Wills

Thomas Marks

31

Spinster

Yes

Merriott

Samuel Wills

Carpenter

Elizabeth Wills

9-Dec

1876

William

Young

Harriett Wills

19

Bachelor

No

Merriott

Weaver

Uriah Young

Weaver

Henry Wills

9-Dec

1876

Harriett

Wills

William Young

21

Spinster

Yes

Merriott




James Wills

Weaver

Rachel Wills

24-Dec

1877

Herbert Samuel Higgins

Marshallsay

Emma Wills

21

Bachelor

Yes

Merriott

Gardener

Samuel Marshallsay

Seedsman

William Hooper

24-Dec

1877

Emma

Wills

Herbert Samuel Higgins
Marshallsay

21

Spinster

Yes

Merriott

Charles Wills

Labourer

Mary Hooper

13-Jan

1878

Henry

Wills

Ellen Higgins

20

Bachelor

Yes

Merriott

Mechanic

George Wills

Gardener

Francis Wills

13-Jan

1878

Ellen

Higgins

Henry Wills

24

Spinster

Yes

Merriott




George Higgins

Labourer

Lucy Wills

16-Mar

1878

Charles

Trask

Susan Wills

26

Bachelor

Yes

West Chinnock

Weaver

Charles Trask

Weaver

Richard Strong

16-Mar

1878

Susan

Wills

Charles Trask

25

Spinster

Yes

Merriott

Jesse Wills

Weaver

Hannah Strong

19-Apr

1878

Louisa

Osborne

Robert Wills

20

Spinster

Yes

Merriott




Robert Osborne

Collier

Susan Wills

19-Apr

1878

Robert

Wills

Louisa Osborne

23

Bachelor

Yes

Merriott

Weaver

William Wills

Weaver

Samuel Osborne

17-Jul

1880

George

Gabe

Emma Wills

25

Bachelor

Yes

Broadway

Labourer

George Gabe

Labourer

Thomas Wills

17-Jul

1880

Emma

Wills

George Gabe

22

Spinster

Yes

Boozer Pit

Amos Wills

Labourer

Elizabeth Pattemore

8-May

1881

Charles Henry

Rogers

Emma Wills

25

Widower

Yes

Lower St

Groom

James Rogers

Maltster

James Farr

8-May

1881

Emma

Wills

Charles Henry Rogers

20

Spinster

Yes

Lower St




James Wills

Weaver

Alice Pattemore

24-Dec

1882

James

Wills

Mary Elizabeth Hooper

21

Bachelor

No

Boozer Pit

Labourer

Amos Wills

Labourer

George Hooper

24-Dec

1882

Mary Elizabeth

Hooper

James Wills

21

Spinster

No

Eggwood Lane

George Hooper

Labourer

Susan Hooper

10-Feb

1883

Frederick

Lawrence

Rachel Wills

35

Bachelor

Yes

Pullendiva Dromore/ County
Sligo, Irelan

Carpenter of the Royal Navy

Stephen Lawrence

Gentleman

Henry Wills

10-Feb

1883

Rachel

Wills

Frederick Lawrence

30

Spinster

Yes

Lower St




James Wills

Weaver

Louisa Sarah Lawrence

26-Jul

1883

William

Wills

Elizabeth Gabe

24

Bachelor

Yes

Lower St

Weaver

Jesse Wills (deceased)

Weaver

Francis Elswood

26-Jul

1883

Elizabeth

Gabe

William Wills

16

Spinster

Yes

Lower St

Robert Gabe (deceased)

Labourer

Mary Jane Wills

23-Dec

1883

George

Gibb

Mary Wills

35

Bachelor

Yes

Cardiff

Labourer

Robert Gibb

Labourer

George Foot

23-Dec

1883

Mary

Wills

George Gibb

33

Spinster

Yes

Merriott




Edward Wills

Labourer

Ellen Gibb

25-Dec

1883

Ann

Wills

Edward Elswood

23

Spinster

No

Beadon Lane

William Wills

Labourer

Elizabeth Elswood

25-Dec

1883

Edward

Elswood

Ann Wills

25

Bachelor

Yes

Beadon Lane

Carpenter

Walter Elswood

Carpenter

Francis Elswood

25-Dec

1883

Edward

Wills

Eliza Matilda Bush

28

Bachelor

Yes

Broadway

Royal Navy

George Wills

Labourer

Henry Sweet

25-Dec

1883

Eliza Matilda

Bush

Edward Wills

29

Spinster

Yes

Broadway




John Bush

Builder

Mary Ann Wills

4-Oct

1885

Isaac

Wills

Elizabeth Pattemore

28

Widower

No

Lower St

Labourer

William Wills

Labourer

Alice Dawe

4-Oct

1885

Elizabeth

Pattemore

Isaac Wills

29

Widow

No

Lower St

Amos Wills

Labourer

Edward Elswood

12-Dec

1885

Selina

Dawe

Samuel Wills

25

Spinster

No

Broadway




Edward Dawe

Labourer

Louisa Wills

12-Dec

1885

Samuel

Wills

Selina Dawe

20

Bachelor

Yes

Higher St

Mechanic

William Wills

Weaver

Henry Daw

11-Dec

1886

Walter

Collins

Mary Ann Wills

22

Bachelor

Yes

Broadway

Wheelwright

Thomas Collins

Tanner

Edward Wills

11-Dec

1886

Mary Ann

Wills

Walter Collins

23

Spinster

Yes

Broadway

George Wills (deceased)

Labourer

Emma Collins

9-Jul

1887

Joseph

Wills

Ellen Sweet

22

Bachelor

No

Sherrimoor Hill

Labourer

Jesse Wills (deceased)

Weaver

Francis Sweet

9-Jul

1887

Ellen

Sweet

Joseph Wills

22

Spinster

Yes

Sherrimoor Hill

Robert Sweet

Weaver

Susan Trask

1-Aug

1887

Henry

Daw

Elizabeth Wills

30

Bachelor

Yes

Broadway

Labourer

Edward Daw

Labourer

Llewellyn Wills

1-Aug

1887

Elizabeth

Wills

Henry Daw

31

Spinster

Yes

Church Street

Alfred Wills (deceased)

Weaver

Mary Bishop

23-Oct

1889

Richard

Mitchell

Emma Wills

21

Bachelor

Yes

Merriott

Labourer

John Mitchell

Yeoman

Susan? Marks

23-Oct

1889

Emma

Wills

Richard Mitchell

24

Spinster

Yes

Merriott




William Wills

Farmer

W Samuel Wills

9-Nov

1889

Eliza

Lawrence

Albert Lawrence

21

Spinster

Yes

Merriott

George Wills

Labourer

Ellen Lawrence

9-Nov

 

1889

Albert

Lawrence

Eliza Lawrence

25

Bachelor

No

Merriott

Labourer

Thomas Lawrence

Labourer

Abraham Lawrence

9-Oct

1892

John

Lock

Mary Susan Wills

33

Bachelor

Yes

Merriott

Miller

George Lock

Miller

Charles Wills

9-Oct

1892

Mary Susan

Wills

John Lock

30

Spinster

Yes

Merriott




James Wills (deceased)

Farmer

Elizabeth Wills

18-Nov

1893

Samuel

Wills

Mary Elizabeth Paull

24

Bachelor

Yes

Merriott

Bleacher

Thomas Wills deceased

Labourer

Edward Paull

18-Nov

1893

Mary Elizabeth

Paull

Samuel Wills

23

Spinster

No

Merriott

Edward Paull deceased

Carpenter

Annie Robins

14-Dec

1893

William Samuel

Wills

Annie Mitchell

25

Bachelor

Yes

Merriott

Farmer

William Wills deceased

Farmer

Benjamin Pattemore

14-Dec

1893

Annie

Mitchell

William Samuel Wills

25

Spinster

Yes

Merriott




William Mitchell deceased

Market Gardener

Mary Susan Pattemore

28-Sep

1895

William

Wills

Mary Anna Pattemore

25

Bachelor

Yes

Merriott

Labourer

not given

not given

George Clift

28-Sep

1895

Mary Anna

Pattemore

William Wills

23

Spinster

Yes

Merriott

James Pattemore deceased

Shoe-
maker

Alice Clift

13-Mar

1897

William

Paull

Lily Wills

23

Bachelor

Yes

Merriott

Labourer

Edward Paull deceased

Carpenter

Francis Wills

13-Mar

1897

Lily

Wills

William Paull

22

Spinster

Yes

Merriott




not given

not given

Edith Paull

15-May

1897

Henry

Butcher

Sarah Ann Wills

20

Bachelor

Yes

Merriott

Weaver

John Butcher

Labourer

Frank Wills

15-May

1897

Sarah Ann

Wills

Henry Butcher

22

Spinster

Yes

Merriott

Francis Wills

Mechanic

Hannah Butcher

2-Jul

1898

George

Wills

Lily Lacey

20

Bachelor

Yes

Merriott

Cloth Folder

Thomas Wills

Labourer

Henry Pattemore

2-Jul

1898

Lily

Lacey

George Wills

21

Spinster

Yes

Merriott




Samuel Lacey

Labourer

Florence Maud Lawrence

1-Aug

1898

John

Wines

Rose Wills

22

Bachelor

Yes

West Chinnock

Weaver

Theophilus Wines

Weaver

Robert Wills

1-Aug

1898

Rose

Wills

John Wines

20

Spinster

Yes

Merriott

Robert Wills

Weaver

Annie Wines

6-Apr

1899

Reuben

Mitchell

Susan Wills

31

Bachelor

Yes

The Castle, Merriott

Publican

William Mitchell (deceased)

Publican

Edward Paull

6-Apr

1899

Susan

Wills

Reuben Mitchell

32

Spinster

Yes

Merriott




not given

not given

Rosa Marks

11-Nov

1899

Alfred Harvey Rendall

Wills

Emily Wills

20

Bachelor

Yes

Merriott

Haulier

Not given

not given

Francis Wills

11-Nov

1899

Emily

Wills

Alfred Harvey Rendall Wills

20

Spinster

Yes

Merriott

Francis Wills

Mechanic

Mary Susan Perry Wills

14-Apr

1900

Sampson

Greenham

Victoria Wills

21

Bachelor

Yes

Merriott

Labourer

not given

not given

Robert Wills

14-Apr

1900

Victoria

Wills

Sampson Greenham

20

Spinster

Yes

Merriott




Robert Wills

Weaver

Sarah Ann Greenham

BAPTISMS (to early 1876)
Catharine WILLS

1 May 1803 James, BC

Joseph & Ann (nee Geep) WILLS

4 March 1804 Susanna

Ann WILLS

25 December 1806 Ann, BC

William (a Labourer)  & Mary (nee Geep) WILLS

26 December 1808 Eliza
22 December 1811 Susan
22 December 1811 Mary
8 May 1815 Joseph
25 December 1818 Enos
21 July 1822 Job
26 December 1825 Jesse

Hugh (a Carpenter)  & Jane WILLS

24 December 1809 Thyrsa

26 September 1813 Louisa
26 September 1813 Simon
John (a Carpenter/ Labourer) & Joan (nee
Mitchell) WILLS
10 November 1811 Joseph
28 November 1813 Mary
24 December 1815 Thomas
25 December 1818 Edward
4 June 1821 Samuel

Ann WILLS

9 May 1812 Hannah, BC

John (a Labourer) & Mary (nee Warry)
WILLS
25 December 1813 Joseph
24 December 1815 George
25 December 1818 William
20 May 1822 Eli
20 May 1822 Robert
20 May 1822 Sarah
7 March 1824 Ann
15 April 1827 Elias
12 February 1828 John
25 October 1829 Charles
11 December 1831 Mary
7 June 1835 Arthur
22 October 1837 Elizabeth
Samuel (a Labourer) & Charity (nee Geep)
WILLS
29 December 1816 George
26 December 1819 Rachel
21 July 1822 James
26 December 1825 William
27 December 1829 Hannah
27 December 1829 Harriet
3 June 1832 Samuel

Thomas (a Labourer/ Gardener) & Sarah WILLS

12 April 1819 Edward
28 April 1822 Elizabeth
28 April 1822 Thomas
16 May 1825 John
27 May 1827 Elizabeth
24 October 1830 Samuel
10 February 1833 Sarah
22 March 1835 Frances (son)
William (a Labourer) & Ann (nee Geep)
WILLS
23 December 1821 John
12 May 1823 Ann
7 May 1826 Ann
12 February 1828 William

Patience WILLS

10 August 1823 Ann

[Note: Patience married Joseph
DAW in 1823, a month before her child was baptised]
John (a Labourer) & Mary (nee Lawrence)
WILLS
31 May 1824 Mary
7 May 1826 Samuel
1 August 1830 Ann
1 August 1830 Edward
9 September 1832 Elizabeth
[Note: John died 1833 and Mary had three subsequent
children by the surname WILLS, including one baptised: 5 February 1843 Elinor, BB
of widow Mary WILLS.]
Samuel (a Carpenter) & Susanna (nee Sweet)
WILLS
26 December 1825 Robert
27 April 1828 William
2 May 1830 Harriet
28 October 1832 James
6 March 1836 James
13 May 1838 Edwin
5 April 1840 Samuel
5 June 1842 Harriett
1 September 1844 Charles
Anthony (a Carpenter) & Sarah (nee Doutch)
WILLS
23 December 1827 Eleanor
4 April 1830 Joseph
21 October 1832 Jane
13 September 1835 Anthony
26 February 1838 George

Elizabeth (a Labourer) WILLS

27 December 1829 William, B. B.

Susan (a Labourer) WILLS

15 January 1832 Alfred, BB

Edward (a Labourer) & Amelia (nee Osborne)
WILLS
28 May 1837 Amelia
7 April 1839 Elizabeth
8 May 1842 Francis
8 May 1842 Thomas
13 April 1844 John
13 April 1846 John
8 April 1849 John
8 April 1849 Elizabeth
1 June 1851 Mary
2 April 1854 Edward
10 August 1856 Samuel
12 October 1856 Samuel (? a repeat)
25 November 1858 Sarah Ann
9 October 1859 Sarah Ann
Joseph (a Labourer) & Hannah (nee
Osborne)  WILLS
22 October 1837 George
28 July 1839 Emma
8 May 1842 Susan
1 September 1844 George
7 March 1847 Robert
7 October 1849 Samuel
7 September 1851 Lucy Ann
14 June 1854 Joseph
14 June 1854 Alexander
William (a Labourer) & Mary Ann (nee Willy)
WILLS
3 July 1842 Francis
1 October 1843 Henry
7 November 1847 William
7 November 1847 Henry
11 May 1850 Isaac
9 April 1851 Catharine
23 May 1852 Jesse
29 August 1853 Susan
11 October 1857 Arthur
13 October 1861 Isaac
13 October 1861 Ann
Amos/Enos (A Weaver) & Ann (nee Lawrence)
WILLS
5 February 1843 Eliza
7 April 1844 Joseph
2 November 1845 Simeon
4 April 1847 Eliza
8 April 1849 Thomas
12 May 1850 Thomas
1 June 1851 William
25 December 1852 Emma
3 September 1854 William
2 March 1856 Elizabeth
7 November 1858 Emma
8 September 1861 James
George (a Factory Engineman) & Rachel (nee
Brown)  WILLS
5 February 1843 George
18 November 1845 Mary Ann

20 May 1849 Elizabeth

George (a Weaver) & Sarah (nee
Pattemore)  WILLS
30 March 1844 Lucy
1 November 1846 Caroline
2 September 1849 Emily
28 July 1852 Francis

[Note: Sarah died in 1856, and George remarried Jane CHANT in 1858]

James (a Weaver) & Grace (nee Rendall) WILLS

29 May 1845 Thomas
25 December 1848 Sarah Ann
25 December 1849 Rachel
7 March 1852 Ellen
5 November 1854 Harriett
10 January 1858 Henry
13 November 1859 Emma
14 December 1862 Bessy


Ann ( a Servant) WILLS

7 June 1846 Ann, BB

Job (a Weaver) & Susan (nee Lawrence) WILLS

13 September 1846 Jesse, son of
4 March 1849 George
25 December 1850 Alfred
27 March 1853 Charles
2 July 1854 Ann
11 November 1855 Alfred
14 March 1858 Mary
11 December 1859 Elsie
14 April 1861 Emma
4 March 1863 Job
12 April 1863 Susan
9 April 1865 Susan

Hannah (a Weaver, Spinster) WILLS

4 March 1849 Ann, B.B.

William (a Gardener/ Inn Keeper) & Emma (nee
Farr) WILLS
6 April 1851 Robert
3 May 1853 Christiana
6 July 1856 Mary Susan
14 November 1858 Harriett
6 April 1864 Emma
11 November 1866 Ellen
23 April 1868 William Samuel
12 March 1871 Richard

John (a Labourer) & Sarah (nee Paull) WILLS

2 February 1851 Mary
6 February 1853 Ann

9 September 1860 William John

Jesse (a Weaver) & Elizabeth (nee Sweet
Chant)  WILLS
30 July 1851 Hannah
27 March 1853 Susan
6 February 1855 Joseph
10 March 1859 William
1 April 1862 Jesse
11 May 1862 Jesse
9 July 1865 Joseph
16 April 1868 Job
William (a Weaver) & Thomasine (nee
Lawrence) WILLS
5 August 1849 George
7 July 1850 Reuben
4 September 1853 Mary Ann
9 November 1856 Robert
15 December 1860 Albert
12 August 1866 Samuel
Alfred (a Weaver) & Caroline (nee Rendall)
WILLS
25 December 1853 Mary Jane
6 January 1856 Elizabeth
14 February 1858 George

13 May 1860 Lewellyn
12 January 1862 Jacob

[Note: Alfred died 1862, and Caroline remarried William MITCHELL in 1874]

Ann (a Spinster) WILLS

12 August 1855 Edward, BC

Charles (a Labourer) & Elizabeth/
Betsy (nee
Lawrence) WILLS
14 September 1856 Emma
12 September 1858 Ann
13 May 1860 Elizabeth
14 December 1862 George
12 February 1865 Edwin
8 September 1867 Emily
24 February 1872 Ellen


Ann (a Single Woman) WILLS

12 September 1858 Mary Ann

George (a Weaver) & Jane (nee Chant) WILLS

10 October 1858 Henry
9 February 1859 Henry (Baptised twice)

Jane (a Single Woman) WILLS

14 October 1860 Sarah Jane

Edwin (a Carpenter) & Louisa (nee Lawrence)
WILLS
29 May 1861 Samuel
14 December 1862 Elizabeth
11 May 1865 James
10 February 1867 Edward
11 April 1869 Frank Jesse
25 June 1871 Sarah
10 August 1873 Francis
James (a Carpenter) & Joan (nee Chant)
WILLS
9 November 1862 Mary Susan
10 September 1871 James
[Note: Joan died 1873 and James remarried Betsy (Elizabeth) Warry on 18 Oct 1877.  Information courtesy of Jeremy Cousins, who has a copy of the marriage certificate).   Elizabeth Warry is noted as the daughter of Frederick Warry, a Blacksmith.  The marriage was solemnised in Crewkerne.]

Harriett (a Single Woman) WILLS

14 October 1866 Susan

John (a Labourer) & Mary Ann (nee Lawrence)
WILLS
13 July 1867 Thomas
11 December 1870 Florence Ann

8 August 1875 Henry

Thomas (a Weaver) & Hannah/ Anna (nee
Osborne) WILLS
9 June 1867 Mary Ellen
3 April 1869 Samuel
26 November 1872 Mary Ellen
8 August 1875 Henry

Caroline (a Single Woman) WILLS

11 December 1870 William
[Note: Caroline WILLS married Thomas LAWRENCE in 1874]
Samuel (a Labourer) & Elizabeth (nee
Shutler) WILLS

12 June 1870 Flora

13 August 1871 John

Samuel (a Labourer) & Emma WILLS

24 May 1862 Mary Elizabeth

Ann (a Single Woman) WILLS

12 May 1872 Arthur Robert

Robert (a Labourer) & Mary Susan (nee
Cridge) WILLS

10 August 1873 Bessie

8 August 1875 Ernest Richard

Charles (a Gardener) & Elizabeth (nee
Lawrence) WILLS

8 February 1874 Samuel

Lucy (a Single Woman) WILLS

13 September 1874 Lily

Mary Susan (a Single Woman) WILLS

20 September 1874 Arthur Robert

[Note: Mary Susan subsequently married Benjamin Pattemore in 1888]

Elizabeth (a Single Woman) WILLS

10 January 1875 Mary Susan Perry

Francis (a Mechanic) & Elizabeth Ann WILLS 

8 August 1875 Sarah Ann

George (a Weaver) & Elizabeth (nee Lawrence)
WILLS
10 January 1875 George.
[Note: Elizabeth baptised three children as a single woman:  1868 Eliza; 1870 Mary Ann;  1872 Bessey;   father not known]

Reuben (a Weaver) & Jane WILLS

9 January 1876 Charles
BURIALS 1801 – 1900
MALES

FEMALES

26 March 1881 Albert Wills 8 mo
20 June 1854 Alexander Wills 1 w
16 December 1854 Alfred Wills 4
21 June 1862 Alfred Wills 31
19 May 1892 Amos Wills 76
6 March 1868 Anthony Wills 65
24 December 1894 Arthur Stanley Wills 16 mo
8 January 1885 Benjamin Wills 6 mo
20 April 1878 Charles Wills 2
7 October 1884 Charles Wills 8 mo
7 March 1844 Edward Wills 51
3 October 1899 Edward Wills 68
25 June 1837 Francis Wills 3
12 January 1872 Francis Wills 3
3 March 1879 Frederic Wills 6 mo
31 July 1838 George Wills 1
14 July 1855 George Wills 6
7 October 1856 George Wills 18
28 August 1875 George Wills 59
28 January 1879 George Wills 4
12 October 1803 Henry Wills
19 March 1846 Henry Wills 2
28 November 1896 Henry Wills 2
21 May 1850 Isaac Wills 5 days
24 September 1834 James Wills 2
7 March 1890 James Wills 54
3 June 1885 James Wills 63
22 July 1852 Jesse Wills 4 mo
18 November 1854 Jesse Wills 4
26 July 1875 Jesse Wills 13
11 August 1877 Jesse Wills 50
16 March 1869 Job Wills 1 y
20 May 1821 John Wills 56
19 September 1833 John Wills 37
10 March 1845 John Wills 1
26 January 1861 John Wills 34
20 February 1869 John Wills 78
2 November 1881 John Wills 91
5 March 1888 John Wills 67
28 April 1805 Joseph Wills
23 June 1839 Joseph Wills 24
4 November 1801 Luke Wills
28 October 1801 Mark Wills
10 October 1874 Richard Wills 3y 9mo
7 February 1846 Robert Wills 20
28 July 1852 Robert Wills 30
8 March 1858 Robert Wills 64
18 July 1891 Robert Wills 15 mo
20 August 1897 Robert Wills 12 mo
29 June 1848 Samuel Wills 8
29 November 1856 Samuel Wills 1 y
19 January 1861 Samuel Wills 58
13 March 1869 Samuel Wills 80
14 October 1882 Samuel Wills 7 w
13 March 1889 Samuel Wills 19 mo
22 April 1869 Simeon Wills 23
12 December 1833 Thomas Wills 72
5 June 1849 Thomas Wills 5 mo
22 October 1860 Thomas Wills 68
5 November 1816 William Wills 2w
3 January 1823 William Wills 66
12 February 1828 William Wills 31
16 February 1852 William Wills 10 mo
28 October 1854 William Wills 3 mo
21 April 1855 William Wills 28
16 February 1864 William Wills 81
26 July 1884 William Wills 10 mo
16 December 1886 William Wills 58
2 July 1895 William Wills 60
2 September 1897 William Wills 38
16 December 1876 Amelia Wills 61
23 March 1802 Ann Wills
16 July 1820 Ann Wills 38
2 May 1824 Ann Wills 1
28 August 1824 Ann Wills 1 w
11 January 1870 Ann Wills 73
20 April 1882 Ann Wills 67
12 September 1885 Bessie Wills 13
13 March 1886 Bridget Ellen Wills 5
10 August 1802 Catharine Wills
18 April 1851 Catharine Wills 1 w
4 November 1810 Charity Wills
24 July 1854 Charity Wills 66
21 April 1824 Elie Wills 4
23 July 1843 Eliza Wills 6 mo
4 May 1823 Elizabeth Wills 80
11 April 1824 Elizabeth Wills 4
18 April 1839 Elizabeth Wills 6 mo
20 November 1842 Elizabeth Wills 77
29 March 1852 Elizabeth Wills 95
23 April 1885 Elizabeth Wills 55
24 May 1897 Elizabeth Wills 70
15 December 1866 Ellen Wills 8 w
28 May 1892 Emily Wills 9 mo
28 May 1857 Emma Wills 4
6 November 1897 Ethel Rose Wills 6 mo
3 January 1809 Hannah Wills
20 December 1873 Hannah Wills 22
5 May 1898 Hannah Wills 10
14 April 1840 Harriett Wills 10
11 November 1879 Harriett Wills 21
3 January 1821 Jane Wills 60
11 December 1875 Jane Wills 51
21 February 1802 Joan Wills
22 September 1849 Joan Wills 62
21 November 1873 Joan Wills 37
26 January 1893 Lucy Wills 48
27 May 1810 Mary Wills
1 January 1814 Mary Wills 1
22 November 1823 Mary Wills 8 mo
7 July 1860 Mary Wills 80
29 March 1884 Mary Wills 81
17 May 1886 Mary Wills 3 w
21 February 1885 Mary Ann Wills 67
20 November 1869 Mary Ellen Wills 2
19 April 1887 Mary Jane Wills 33
29 September 1801 Ruth Wills
1 May 1856 Sarah Wills 38
20 December 1873 Sarah Wills 79
14 February 1883 Sarah Wills 80
4 January 1907 Sarah Wills 80
21 February 1860 Sarah Ann Wills 1 y
19 March 1864 Susan Wills 13 mo
5 March 1878 Susan Wills 68
26 August 1884 Susan Ann Wills 4
15 March 1898 Susan Hannah Wills 76
8 June 1810 Susanna Wills
17 January 1815 Susanna Lawrence Wills 69
Estate Duty Wills at the Somerset Record Office
WILLS Joseph 1813 Merriott (can't match to a burial).
1873 Returns of Owners of Land of more than one acre
WILLS, Caroline of Crewkerne; over 6 acres.
WILLS, J. Executors of; of Crewkerne; over 38 acres.
WILLS, Marianne of Crewkerne; over 4 acres.
WILLS, Susan of Merriott; over 2 acres.
WILLS, William of Merriott; over 14 acres.
The 20th Century
The surname WILLS continued in Merriott into the 20th century amongst the All Saints Parish Marriages & Burials.
Photo of Charles Wills' Headstone – sent by Adrian Wills: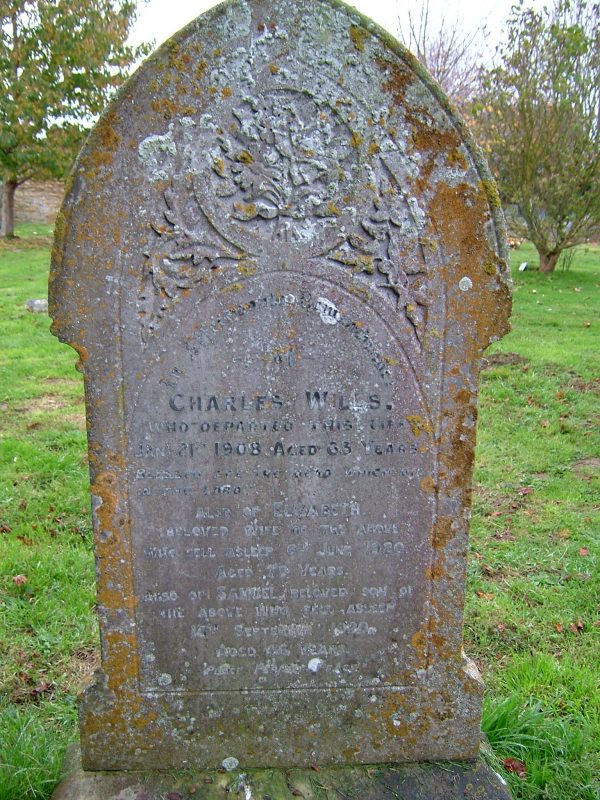 Move to other Wills pages: